We'll Come To You! Pristine Dent Repair in Salinas, CA Offers Professional Mobile Dent Removal
With years of experience, Pristine Dent Repair is the expert in paintless car dent and scratch repair, and more.
And we offer mobile dent repair near Monterey and services to our customers in Seaside, Marina, Pacific Grove, Camel, and Santa Cruz!
No need to leave the comfort and safety of your home or office.
Pristine's experienced PDR technicians can address your autobody repairs without inconveniencing you with a trip to the shop.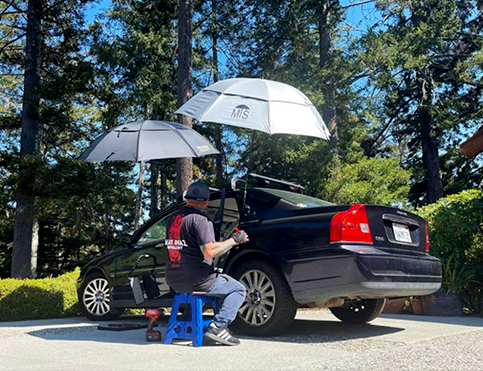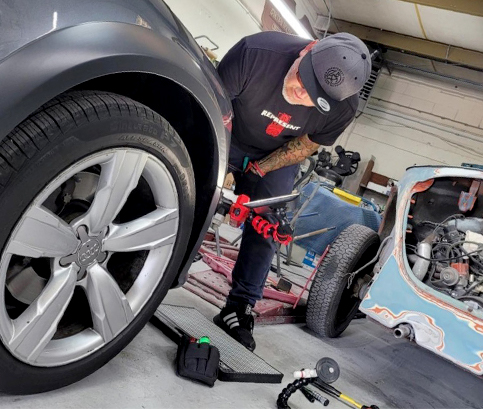 Paintless Dent Repair
Addressing your vehicle's dents in a timely manner is the key to reducing further damage from arising.
Dents can cause corrosion and other costly issues for your car. Taking care of your car's dents is essential in saving time and money in the long run.
It may be easy at first to ignore your car's dents – especially the smaller ones.
However, as the problem grows you will see that doing this is never a wise decision.
At Pristine Dent Repair, we have skilled professionals with loads of experience in dent repair, for both big and small dents.
Paintless Dent Repair is a type of dent repair that is used on metal sections of your car that are dented but do not have paint damage.
Traditional dent repair can be a long, expensive process that has to be done in a mechanic shop.
You can contact us for a free estimate to see if you should have PDR performed on your vehicle, rather than using traditional dent repair.
PDR is a much cheaper and quicker option for maintaining the value of your car. Whenever possible PDR is the better choice!
Paintless Dent Repair is also offered in a mobile manner, as it can be done just about anywhere.
We can come to your home, office, or wherever best suits you.
The beauty of Paintless Dent Repair is that we can have your car looking as good as new in no time!
You won't have to come to sit in at the shop and waste your time. Go about your day and let us take care of the rest.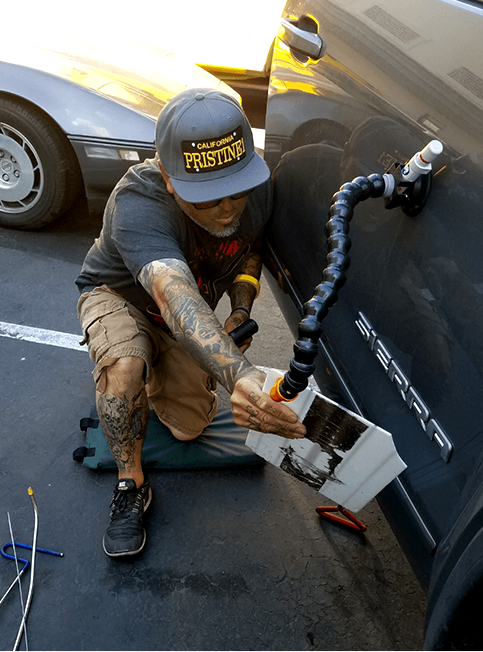 Contactless Mobile Dent Repair
We at Pristine Dent Repair value you and your family's safety. That is why we have established 100% contactless mobile dent repair.
You won't have to worry about exposing your family to strangers unnecessarily. We come, fix your dents, and leave. No contact, ever!
If your car needs one of our other services such as touch up paint or traditional dent repair then you can also contact us and get a quote for these services.
We are experts in making sure your vehicle stays looking as good as new.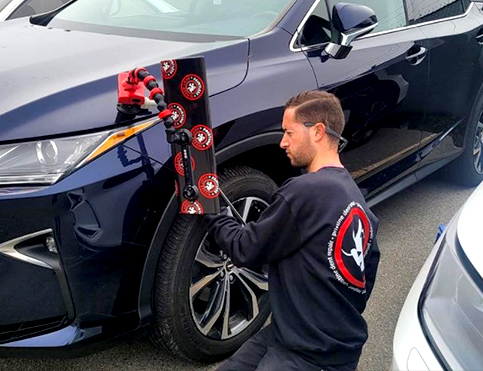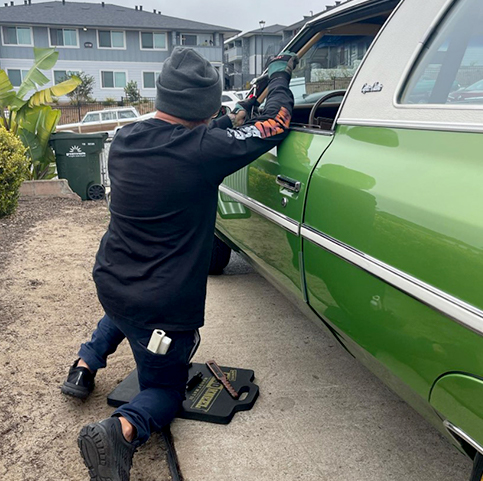 We Repair New Cars and Classic Cars!
At times it may be hard to find a shop that can fix any type of car from any year.
At Pristine Dent Repair we have the skills and tools to fix cars of all makes and models. We can fix dents on brand new cars, as well as the old classics.
You can trust us to take care of your car and hand it back to you looking as good as new.
We can come to you with our mobile dent repair and have your classic Mustang or your brand new Tesla fixed in no time.
What We Offer
At Pristine Dent Repair, it is our mission to offer you high quality and efficient mobile dent removal.
We have incredibly skilled technicians who value both you and your vehicle. We aim for 100% satisfaction from every customer.
If your vehicle has body damage, and you need mobile dent repair near your area then Pristine Dent Repair is here for you.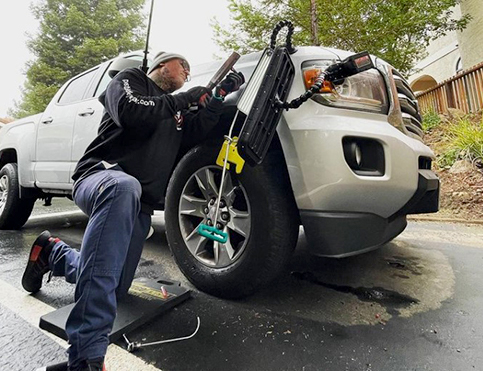 Get A FREE Estimate
Wondering how much our dent repair services will cost you?
We offer FREE estimates. To schedule an appointment, call us today at 831-261-7977.