Once upon a time, it was normal to hand write letters, order home goods from a catalog, buy ad space in your local newspaper, and spend half of your day at a shop getting body work done on your car.
But as we know, today, times have changed.
The world moves at a faster pace, our schedules are packed tight with obligations and activity, and we are constantly seeking quicker and more efficient ways of getting through our weekly to-do lists.
And when it comes to getting work done on your vehicle, there is in fact, a better way.
According to Auto Dent Specialists, "Mobile dent repair services are among the most popular for good reason.
Instead of driving a damaged vehicle to an auto body repair shop, a skilled technician comes to you.
That means that you don't have to worry about further damaging the car, truck, van or SUV by driving it when it's damaged.
You also don't have to leave work early or go out of your way to find a repair shop that is open late at night."
At Pristine Dent Repair, we believe that in order to keep up with the times and to deliver total satisfaction, it's our job to offer to bring our quality services to our customers – wherever they may be.
We understand that most people put off getting dents and scratches repaired on their car because they simply cannot find the time to drop off their vehicle and wait around.
And arranging a ride back to the office, and then to our shop again for pick up, can be nearly as inconvenient.
We decided to come up with a better option.
That's why our skilled technicians are willing to come to your workplace or home and make repairs while you go about your day.
No waiting. No arranging. No procrastinating. Just a quality dent repair that adds minimal interruption to your life.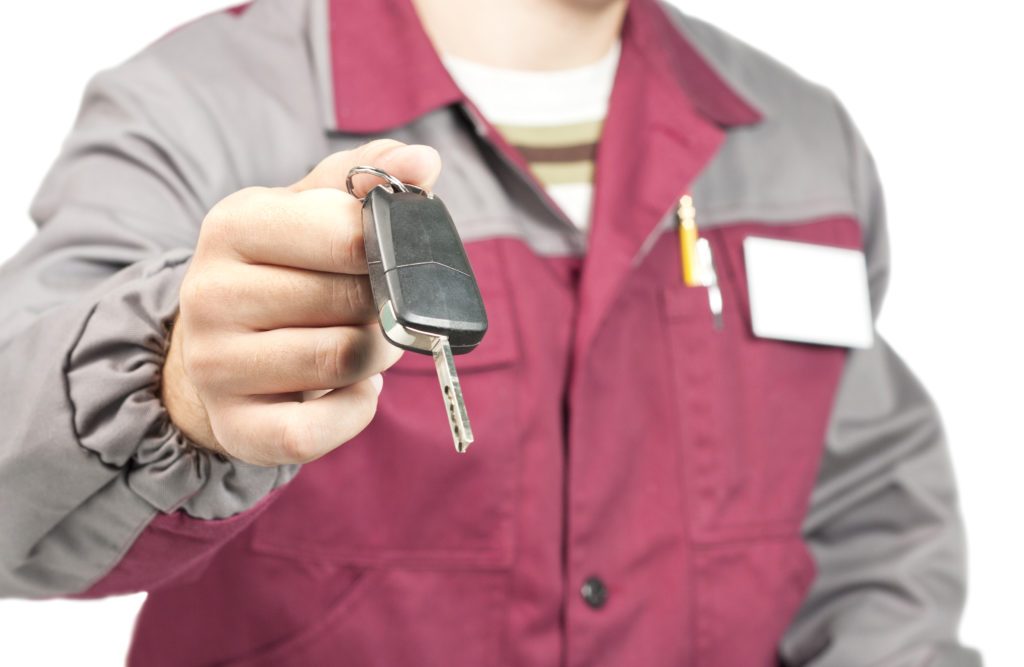 Here are the top 3 reasons why we've chosen to offer mobile dent repair as one of our services:
1. Super Fast Turnaround For Most Dent Repairs
While the severity of your damage will always play a part in the time it takes to repair, most dents are a quick fix and can easily be repaired while you're at work or home.
In fact, minor dings can be remedied in as little as 20 minutes without your car ever having to leave your driveway or parking lot! With a turnaround like this, you'll wonder why you ever put off your dent repair in the first place.
2. Mobile Repair Means Total Convenience For Our Customer
When we come to you, you don't even have to think about the repair being done. You're free to go about your day as normal, and we will let you know when the work is finished, and make sure you are satisfied before we leave the premises.
3. You Get The Same Quality Of Work That We Offer In Our Shop
Our skilled technicians bring everything they need for a repair to the site of your vehicle. There is no sacrifice whatsoever in the quality of work, which makes our mobile dent repair service a win-win in the majority of cases.
Speaking of quality, we believe the very best part of our mobile dent repair service is the type of dent repair we offer.
Paintless Dent Repair. (PDR)
Paintless dent repair is a much superior option compared to traditional methods of filing, grinding, sanding, and repainting.
When you choose our paintless dent repair service, you can be at total ease knowing you are choosing a cost effective repair method that comes with a lifetime warranty.
The original body paint on your car is not compromised, and the repair can be made incredibly quickly compared to other outdated dent removal methods.
PDR is also a much more environmentally friendly method of repair, because no chemicals or paint fumes are released. And because PDR can be completed quickly, it's incredibly cost effective.
In fact, we are convinced that PDR is the cleanest, quickest, and safest option for fixing body damage.
If you're interested in scheduling a mobile paintless dent repair service, contact us here today. We would love to offer you a free estimate.